25 Oct 2021
Tctech Developers
Add a Developer to your Apple Developer Account and Assign Admin Roles.
EVERY IOS APP IS PUBLISHED USING APPLE DEVELOPER ACCOUNT & APPSTORE CONNECT. FOLLOW THESE 5-SIMPLE STEPS TO QUICKLY ADD A DEVELOPER TO YOUR APPLE DEVELOPER ACCOUNT.
PLEASE NOTE :
As per Apple, Assigning Developer access is only useful for Apple Developer Account (ENTERPRISE Level Account) but not for Individual Account. (Individual account owners must share their login credentials directly with the developer who will publish their app into Appstore)
STEP 1
Create an Enterprise Apple Developer Account by going to this link: https://developer.apple.com/programs/enroll/
If you already have an Enterprise Apple Developer account, Go to -> AppStore Connect: https://appstoreconnect.apple.com/login
STEP 2
After Successful login, Go to "Users and Access"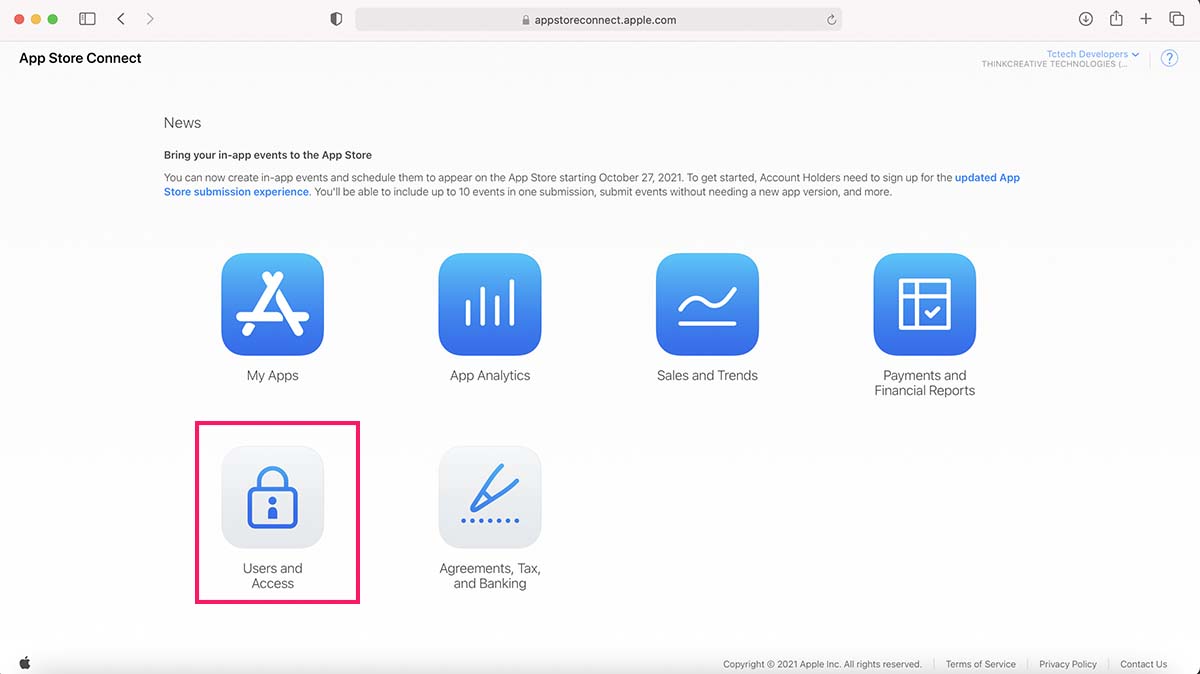 STEP 3
Click on "Plus Icon" to Add a new user.
STEP 4
Fill this form exactly as shown below:
A) Enter developer email : tctechdevelopers@gmail.com
B) Assign the roles as "Admin"
C) Tick the "Access to Cloud Managed Developer ID Certificate"
D) If you app is already created in the Developer account, select the app OR select all apps
E) Click on "Invite" button to send Invitation Request to the developer email.
STEP 5
Ask your developer to accept the Invitation Request sent to their email tctechdevelopers@gmail.com. Also make sure the developer email is showing in Users and Access.
Congratulations ! You have added a Developer in your Apple Developer Account & also assigned the Admin role so that developer can create and update iOS apps.